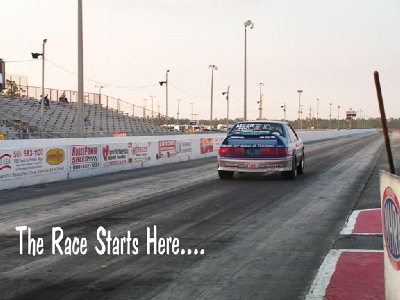 "Racing to Cure Muscular Dystrophy"

Team MuscularStang is the upshot of the life of Adam Beaumont, and to trace its inception time reverts back to his early school years. One of Adams physical education teachers noticed he wasn't able to run or jump as fast or as high as other kids his age.

Being concerned, Adam's parents were called and a visit to the Beaumont family doctor was scheduled. From there Adam was put through a battery of tests with a neurologist who sent him to Miami Children's Hospital for a second opinion. In the end the Beaumonts fears were confirmed when Adam was diagnosed with the progressive muscle wasting disease, Duchene Muscular Dystrophy.

Although physically challenged, Adam and his family were not going to allow this disease .to engulf this young man's spirit. Adam always portrayed a natural love for speed, power and styling, so it wasn't a surprise when he announced he wanted to pursue automotive technologies at North Tech (now Inlet Grove High School) in Riviera Beach, FL. Consequently, at the end of his middle school era a meeting with the faculty and staff of the automotive school was arranged. Again it was no surprise when the, staff could only encourage Adam to follow his heart and interests despite his disability.




First Picture. The MuscularStang was 4 different shades of gray and silver,
but had that
"Lots of Potential" glimmer!

Pretty rough and barely drivable, it started out as a street/strip Car. At about the same time Adam and his father, Mark started going to Moroso Motorsports Park, and before they knew it, they were hooked. As the car progressed, it became apparent that they were making this Mustang into a dedicated drag car - and the car was going to need a name. "MuscularStang" was devised by inserting "Muscular". (a play on words that evokes Muscular Dystrophy) into Mustang, and then add Adam and Mark to get Team MuscularStang.


In 2001 Mark drove the "MuscularStang" for the first full season, and the usual successs and setbacks of campaigning a newly built car were experienced. That didn't stop Team MuscularStang from wanting more power to go faster during the 2002 season. The Beaumonts' wanted a more serious motor so they solicited the help of family friend and engine builder Bob Larkin. Bob, a veteran pro stock bike crew chief, who toured the NHRA circuit for 3 years with his brother Kerry, built the Beaumont's screaming Ford 460 big block that took the "MuscularStang" into the 10's at 126mph.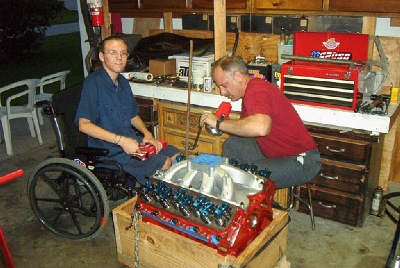 Adam with engine builder Bob Larkin preparing big block 460 before installation in the MuscularStang

Although Adam was unable to drive his dream Mustang, the Beaumont's tow vehicle had been equipped with hand controls, a lift gate and automatic doors so that he could take part in the starting line routine. But as Adam's disease slowly progressed, he became weaker and had difficulty driving. He decided he should stop driving altogether and concentrate on helping his dad become a better driver by making the burn out and starting routine consistent. Adam also helps tune the car and makes dial-in decisions. In short he's the Team MuscularStang Crew Chief. While there is no cure to date for Adam's disease, the Beaumonts' remain undaunted in their quest to be a competitive race team. Future plans include continuing to improve the performance of "MuscularStang", mixing it up with the boys at Moroso Motorsports Park in Super Pro, racing at other regional drag strips, securing sponsors and participating in divisional and national events.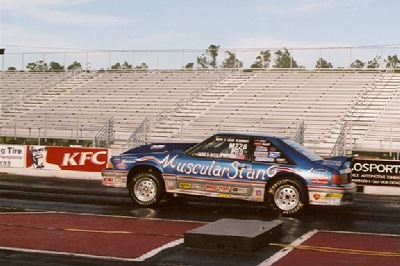 MuscularStang is set up for a good footbrake Hook and Launch

Adam and Mark thank their family and friends who have helped over the years Derek Perez, Rich Mannes, Marc Grosse, Bob Larkin, Marty Mott, and racers Maggie Stalhut, Jeremy Jerosz, Bill Shaffer, Ed Smith and Roy Hickock. "We've found that it's not just the sights, sounds and smells that make going to the track a joy it's also the people you meet and friends you make!"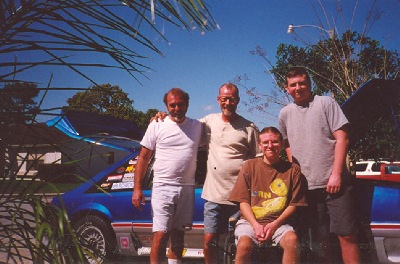 Left to Right:
Marty Mott,
Mark Beaumont,
Adam Beaumont,
Rich Mannes
Background:
MuscularStang
when it was still streetable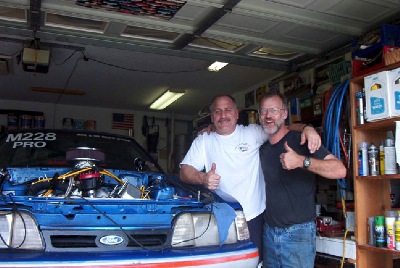 Bob Larkin & Mark Beaumont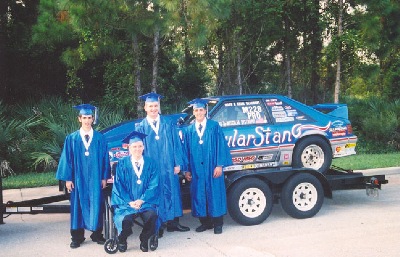 Adam with Inlet Grove school chums on graduation day.
Left to Right:
Derek Perez
Adam Beaumont
Rich Mannes
Johnathan St. John
Let's Go Racin! Boys